Since we opened in 2004, our baskets can be special ordered to satisfy any dog or cat's particular taste. We would Love to spoil your cat or dog as if they were our own! We have a wide assortment of healthy treats, fun toys and gifts to make your spoiled kitty cats purr and pampered pooches tails wag!
We help to support many rescue organizations by providing some of their vital information and links right here on our web site! If you are a rescue/animal welfare organization and would like to be included here, please send us an e-mail.
Our Team
Our founding fur babies were 3 very sweet chihuahuas that are forever in our hearts. We have rescued 8 fur babies and have 2 ragdoll senior kitties.
Our newest adopted baby: Doodle Bug (Chi mix) Needed us as much as we needed her. She was only 6 weeks when we brought her home.
Rose, is an Italian Greyhound, she had a good loving home but they passed and the family abandoned the fur baby and she was on the streets for a year, she got a very bad infection in her leg and had to have a plate removed that was put in years ago for a broken leg. On July 23rd 2016, we went to pick her up and she continued her meds for a month but she is all better and we give her the love she deserves so much! She is 5 years old.
Liefde (Chihuahua): Was only given a month to live when I saved her, she was very very old and very sick, but with lots of love meds and care she had a year and a few months of quality life before going to rainbow bridge.
Sweetpea (Chihuahua/Chinese Crested): Brought into the vet were I worked, surrendered to the vet, she had been either kicked or stepped on (grrr) and almost lost her eye.
Liebchen (Chihuahua/Dalmatian): Someone brought her into the vet's were I worked, she was skin and bones,her nails were so horribly overgrown, was covered in fleas and just had...puppies, she was 1 or 2 years old, just a baby herself.
Buttercup (Chiweenie): Was living in filth and had already had pups (they were adopted to good homes too) and she was barely 1.
Munchkin (Chihuahua): Her mom was forced to breed to the point of calcium loss, came into the vet were I worked and surrendered one of her pups to me because she has no tear duct in one eye and needs consent care.
Precious (Chihuahua): We adopted in Feb.2015 she is sooo little and we guess she is 6, her teeth were so bad, but now she is doing great after her dental. A friend told us about her, she is a vet tech at a local vet and they put the babies to sleep if no home is found fairly quickly, we could not imagine our life without her. She is very precious.
Lily and Akemi are our sweet ragdoll kitties they are the queens of the castle and love their doggie sisters very much.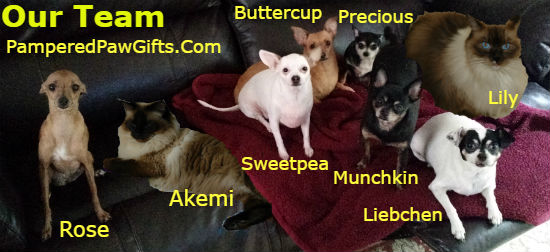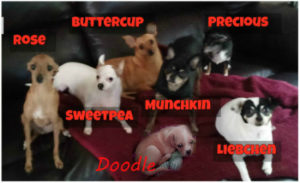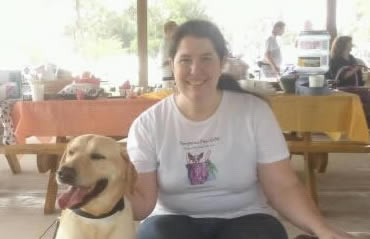 Owner Tera with one of the Marleys from Marley and Me at The Daloween Rescue Event
Our Founding Team: Lady, Snickers and Angelica
My 1st born fur babies that inspired my business are forever on my chest at my heart. With my Snickers (she inspired my logo) paw print casted and tatted in the middle.