HELP SPREAD THE WORD
We help to support many rescue organizations by providing some of their vital information and links right here on our web site! If you are a rescue/animal welfare organization and would like to be included here, please send us an e-mail.
We think every doggie and kitty cat should get a gift, so we keep our prices pretty close to our cost. It is our idea that with excellent service and customers' re-orders and telling others about us, that we will grow slowly but in the right way. As we grow we give back into the local and national rescue groups that need our help so much! They do so much with so little. We select our bakers and vendors that also give back to rescues in need.
HELP SAVE A LIFE
We believe very strongly in helping to end the never-ending cycle of killing millions of perfectly healthily, loveable dogs and cats. So much of this needless killing could be prevented by spaying/neutering your pets, to prevent the cycle of unwanted, homeless animals.
OUR DONATIONS

Here are just some of the many animals we were able to help with your orders over the years! Let's make it even better this year!
Save Our Strays is an all volunteer pet rescue group in rural Vermont. We helped raise money for a dog named Zombie. Zombie required extensive orthopedic knee surgery due to a long standing condition that was left untreated by his previous owners for more than 3 years.
"Thank you so much! Zombie had successful surgery and after a 6 month stay in our rescue had recovered well and is now living life in a loving home. Ive attached a picture of him with his new sister - a 11 year old Great Dane named Sally!" ~ Lisa, Save Our Strays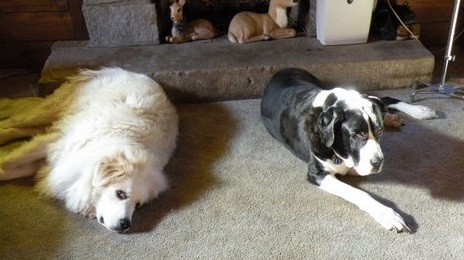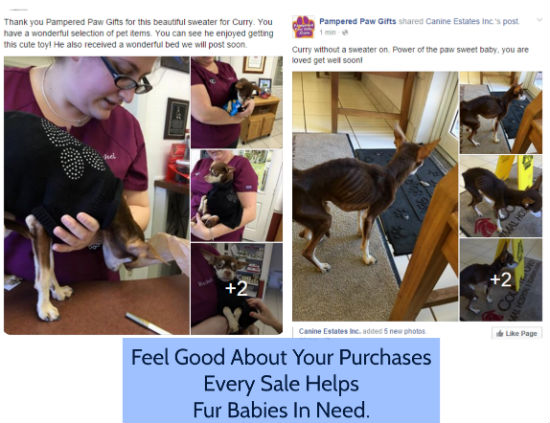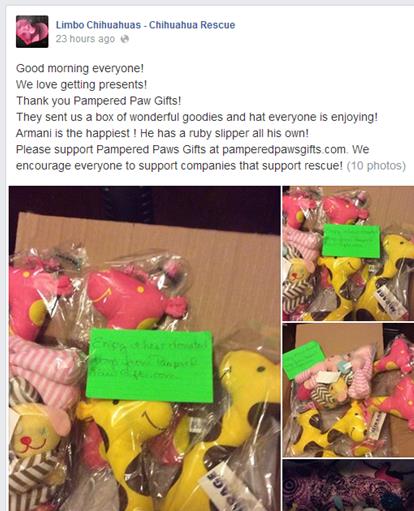 Chi Town
Limbo Chihuahua Rescue
Blind Cat Rescue
FluffyButts Rescue Resort
K-9 Lifesavers
Paws For A Cure and Susan G. Komen for the Cure and the 3-Day Walk
Louisa County Animal Shelter
Great Pyrenees Rescue of Greater Chicago
Tails of the Tundra Siberian Husky Rescue, Inc.
Partners For Pets
Best Friends Animal Society
Dalmatian Rescue of Tampa Bay Inc. (Calendar fundraiser)
Dalmatian Rescue of Tampa Bay Inc. (Daloween event)
Action for Animals Humane Society (AFA A Dog Easter Egg Hunt)
Spay Pasco (Belks Charity Event)
Dalmatian Rescue of Tampa Bay Inc. (2nd Annual "Have a spot in your heart" Wine tasting and auction
Finger Lakes Adopt a Grey (6th Annual Grapehound Wine Tour)
Give Forward Adopt Fundraiser
Bobbi & the Strays (1st Annual Pups on the Runway Halloween Costume Ball Fundraiser)
American Cancer Society
Tails of the Tundra Siberian Husky Rescue, Inc. (9th Annual Tails on the trails dog walk)
Southeastern Guide Dogs and DOGMA (Dog Fest 2011)
4th Annual Paws for a cure pet show
St. Joseph Curch Music Ministry(Blessing of the Animals)
H.A.R.T. Art Gala
Survival Outreach Sanctuary (Annual BBQ Fundraiser)
and many more!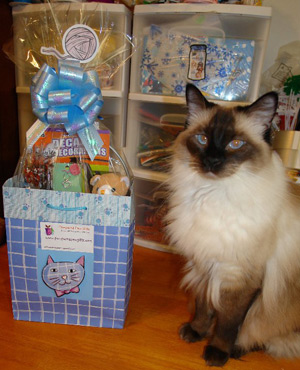 Akemi, modeling with our donation gift for the Survival Outreach Sanctuary Annual BBQ Fundraiser.
We would love to help!
Below are ways we will help raise funds and goods for your pet rescue or shelter:
1. Copy the code below to display our small banner on your website. Add our banner & code to your online sites. Let everyone know on all of your websites, FB, MySpace, Twitter etc... and we will donate 10% of sales to you! List below the banner your information and it can help generate donations.
Suggested Text (put this text below the banner ): "Order from PamperedPawGifts.com and YOUR GROUP NAME will receive 10% of the purchased amount (Please type YOUR GROUP NAME in the notes section on the checkout page when ordering)".
2.Put the "FUN" back in your Fundraiser!
If you have a website, you can always have us drop ship orders for you and you get a 20% discount, 10% on bakery items.  Email us for details.
Rescue Organizations & Adoption Info
Pet Finder: Petfinder is an on-line, searchable database of animals that need homes. It is also a directory of over 9,000 animal shelters and adoption organizations across the USA, Canada and Mexico. Organizations maintain their own home pages and available pet database. http://www.petfinder.com/
Pets 911: Great web site for pet adoption and awareness. http://www.pets911.com
Puppy Mill Rescue: Created to locate, foster, vet, and place in forever loving homes, purebred dogs previously used as breeders in Puppy Mills and Commercial Kennels. We house feed, rehabilitate, socialize, seek medical attention for, and spay/neuter the dogs rescued from a life of pain. Puppy Mill Rescue's motto is "One dog at a time." http://www.puppymillrescue.com
Second Chance for Animals, Inc. is a not-for-profit volunteer group devoted to enhancing the lives, adoption rates, and experiences of the animals living in shelters. http://www.secondchanceforanimals.org
Hearts United For Animals: A no-kill shelter, sanctuary and animal welfare organization dedicated to the relief of suffering. http://www.hua.org
Pet Parents Support Group: An Online Community to Celebrate All Pet Parents and Our beloved Animal Companions. As Well as Provide Compassionate Support & Guidance Through: All the stages of Pet Parenting as well as Death of Pet, Medical Crisis, Chronic Illness, Palliative Care. https://www.facebook.com/pages/Pet-Parents-Support-Group/102263226587435