Welcome Home Sweet Pup Gift Basket
This gift was inspired by a very sweet Cocker Spaniel named Hunter. It was a get well gift and makes an amazing new puppy gift from the heart as well. Let a pampered pooch know that you are thinking about them. This is a perfect gift to do just that! The beautiful metal tin planter with golden accented feet (4.25"H x 8"W x 4.5"L) has 2 yummy treats and 2 great toys. Don't fur-get your personal handwritten message. Each gift has a doggie themed boy or girl welcome home card included! Can make this for a kitty as well.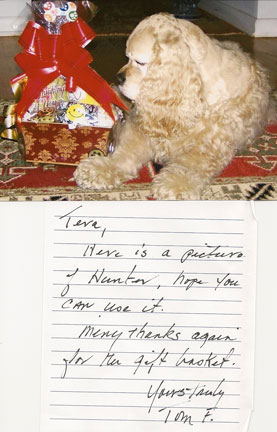 Ships in 4-6 Days
Express Shipping is available for this item.
Welcome Home Sweet Pup Gift Basket-$15.00