Thank You For Letting Us Share Your Special Day!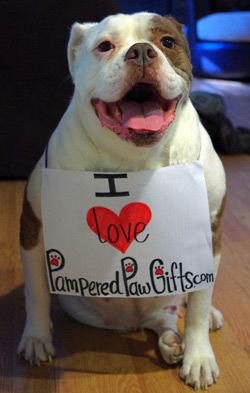 We would LOVE to feature your pet and have you tell everyone how much your companion loves our gift baskets.
Send us an email to PamperedPawGifts [at] gmail. com and attach a photo of your pet enjoying their gift. Please send all pictures in .jpg (JPEG) format.
By submitting a photo, I authorize and agree to let Pampered Paw Gifts share it, in whole or part in print ads, catalogs, packaging and all other media. I understand that Pampered Paw Gifts could use my first name, last initial, city and state when identifying the source of the picture unless otherwise specified. I have no affiliation with Pampered Paw Gifts and have not been paid any monetary sum for providing this testimony and picture.
Another Happy Baby! I am so honored by this amazing email!
"Hello and thank you so much for the unbelievably thoughtful Easter basket for my pup it is amazing and he absolutely loves it I really appreciate the thoughtfulness that was put into it. I will be recommending you guys to any dog owner on any occasion and you guys have earned my business for life thank you so much attached is pics of him with his basket "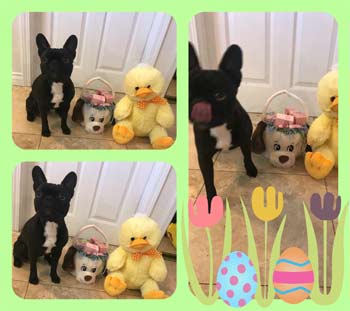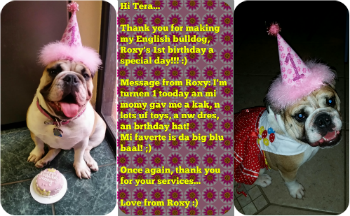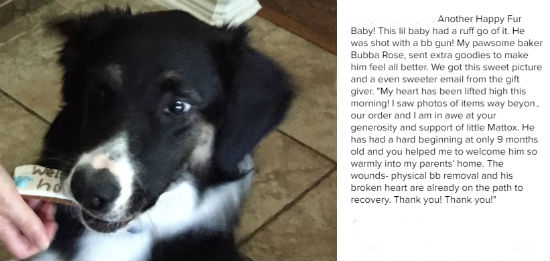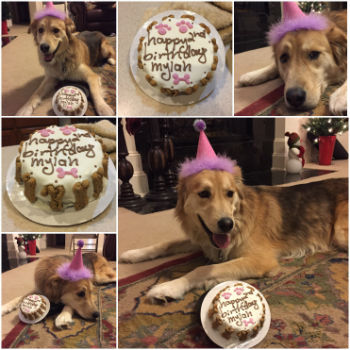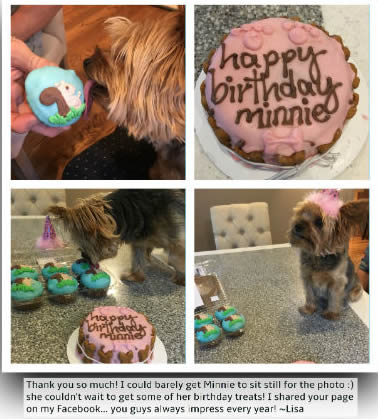 "Thank you so much for Lego's birthday cake! He absolutely loves it! Thank you for helping me make his birthday special!" -Calvin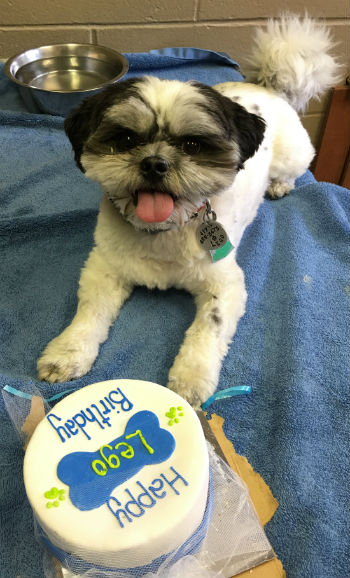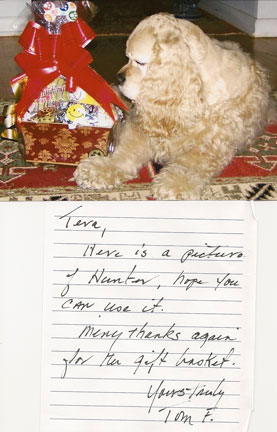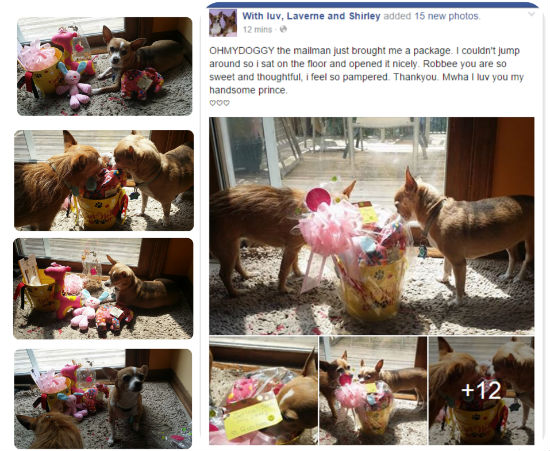 Lucy loved her pretty pink birthday cake. This was the first time i gave her a cake since I could never find a bakery to make one. I will order her cake from you every year now! She loved it and the look on her face when I gave it to her made it priceless to me! Thank you so much!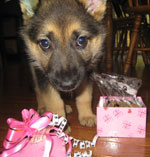 Hi, Just wanted to send a quick note to let you know what a wonderful product you have. I was sent a gift from your company by a dear friend who wanted to welcome our new puppy. The packaging was so adorable, I almost didn't want to have the puppy open the gift. But as you can see, open it she did, and has been enjoying your treats ever since.
Thanks again, Nancy M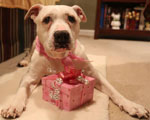 Tera, Thank you for the wonderful doggie birthday treats! My Kaya celebrated her 16th (!) birthday yesterday.
Thanks, Simone & Kaya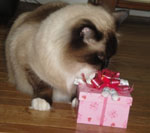 Hi! I wanted to send a big thank you for the amazing cat cake and gift. Our cat, Nola, had her first birthday yesterday and we ordered a 3" cake for cats and the treats and toys gift. Attached are some photos. I'd be honored if she made it onto your Happy Customers page
Thanks Again! Jen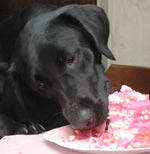 Abbey's cake was adorable! She absolutely loved it & so did some of her human guests. Thank you for helping make Abbey's 1st b-day even more special!!!!
Thank you, Renee G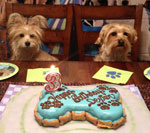 Dexter and Baxter wanted to say thank you for the beautiful and delicious cake! The birthday boy enjoyed it very much and his little brother is looking forward to getting one for HIS 1st birthday!
Anna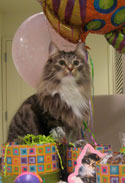 I just wanted to let you know that the birthday present we ordered for our cat was the prettiest present for a pet I have ever seen. The colorful stacked boxes with the decoration full of toys and the treats were just beautiful. Not to mention that our Norwegian Forest Cat loved it, but we also loved it very much! Thank you for making her birthday very special. I hope you enjoy the pictures.
Jeff & Maiko P. Redwood City, California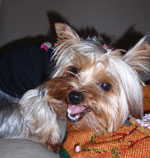 My dog Angel had her birthday last weekend and this cake was delicous! She would have ate the whole cake if she could have.
Mary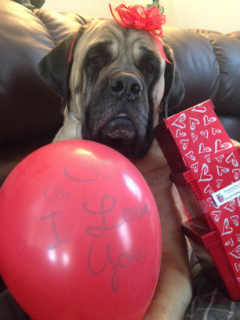 Thank you for the beautiful gift. I will be sure to refer you! P.S...she loved the treats!
Thanks Kara