Do you have a pet business & need help getting your products in the spot light?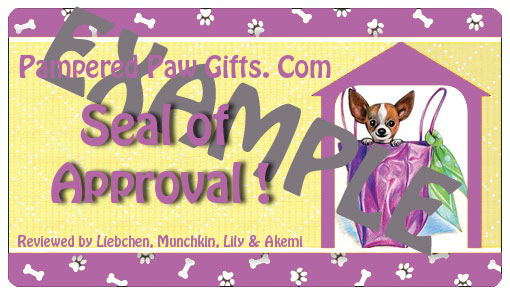 We will test your products out.
We will send you a cute video montage of them enjoying your products. And post the review on our Youtube, Twitter, Facebook and Google +. If they love it, we may offer to feature your product(s) on Pampered Paw Gifts.Com and email you a seal of approval banner to proudly display!
If sending treats must be all natural, no rawhide products.
Mail your items with TRACKING via USPS cheapest, 2nd cheapest is UPS (A must to have tracking- If it doesn't get to us, this will show it is NOT our Fault)
Email us for the address.
If you have a soundtrack (that you legally own) that you prefer in the background, email it to pamperedpawgifts at yahoo.com. If there is a logo you would like included in the video email it to pamperedpawgifts at yahoo.com
Also if you have a website, FB ect,write us a note and include it in the package for us to mention it on your video and on our Youtube, FB, Twitter and Google +.