Friends Forever Dog and Owner Gift
We know that a man's best friend is his dog so why not celebrate the occasion with a gift that includes treats for both of them all in one gift. Our Friends Forever collection is filled with an assortment of goodies that the pet owner is sure to enjoy and dogs love biscuits so we've made sure there are plenty inside this gift for Fido. Celebrate the occasion in style and they may just bring back the awesome handled tin for you to refill again!

This Gift Includes
For the Owner
Salt Water Taffy Chocolate Chiffon Taffy 2 oz.
Butterscotch Candies by Primrose Hill Confections 3 oz.
Simple Pleasures of Friendship Book
All Natural Cookie Kit Oatmeal Raisin Individually Packaged Ingredients As seen on Shark Tank!
Blueberry Pomegranate Trail Mix Crunch 1.25 oz.
Soft Delicious Buttery Cookie that are Hand Iced with Tasty Royal Frosting (k)(Butterfly Shown) Each Cookie is Approx. 4.5" to 5.5" Tall Depending on Shape Each Cookie is Approx. 3.5 oz.
For the Dog:
Classic Dog Treat Tin 7" high x 3.75" diameter
Tummy Treats 100% All Natural Roasted Duck Treats for Dogs 8 oz.
Reusable Cheery Ribbed Tin
Gift Size 16" x 8" x 15"
Dim Weight: 23 lbs. (17x17x13)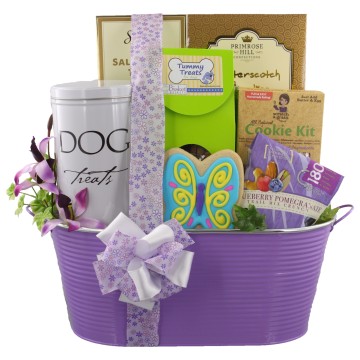 Ships in 4-7 Days Larger Item shipping is more
Express Shipping is not available for this item.
Friends Forever Dog and Owner Gift-$121.99