Tuffy's Ultimate Tug-O-War Dog Toy
The Ultimate Tug-O-War is tough and long lasting, Use interactively with one or multiple dogs. It can be used to play Fetch or a Tug toy. Great toy to entertain multiple dogs for hours -- soft edges won't hurt gums. And Floats.
Ultimate Construction:
Each toy is made with 4 layers. 2 layers are made of industrial grade luggage material, 1 layer of plastic coating, and the other layer is made of soft fleece on the outside. All of these layers are sewn together to make one super strong layer of material. Each toy is sewn together with 2 layers of cross stitching and then 2 layers of linear stitching.
After the toy is sewn together an additional piece of black trim is added to cover the four rows of stitching. This extra piece of black trim is sewn with 3 linear stitches to give the product a total of 7 seams.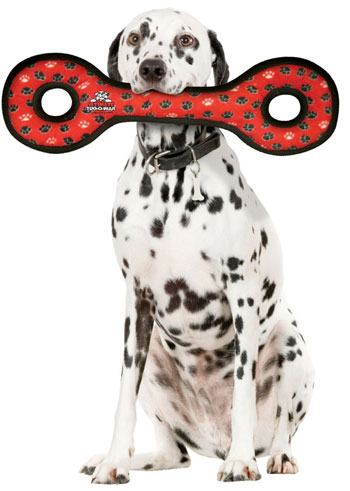 A1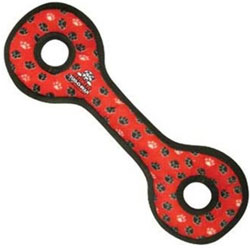 A2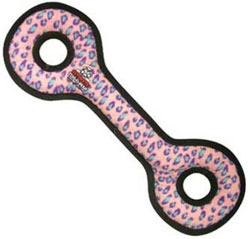 A3
A4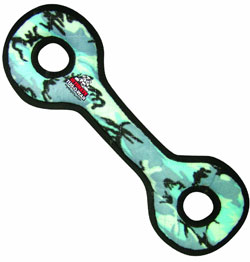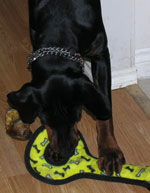 I have a big dog and the Tuffy toys are the absolute best! Abby is a big chewer and has a tendency to tear through toys extremely quickly (she has been known to chew through a rope in about 15 minutes). We have bought several of the Tuffy Ultimate toys and they all have lasted her at least 6 weeks - a very long time for her! She absolutely loves them all.
Christine
Ships in 4-7 days
Express Shipping is not available for this item.
Tuffy's Ultimate Tug-O-War Dog Toy $18.50