Flea Shampoo Bar - Organic with Diatomaceous Earth from DERMagic
Fleas, ticks, mosquitoes, biting flies and their kind are a nuisance for everyone in the family, but especially for our more vulnerable animal companions. Cats and dogs can't protect themselves and they rely on us to keep them safe from insect parasites. Although pesticide sprays and squeeze-on products are one quick-fix solution, for most of us, the risks of using these toxic chemicals on and around our human and animal loved ones are just not worth it. Fortunately, there is a safe and effective alternative to keep those nasty insects at bay.
Toxic chemical pesticides have been known to cause immediate health crises in some dogs and cats, and perhaps worse, these chemicals can circulate and accumulate in our pets' bodies, doing unseen damage to vital organs that may go undetected for years. And then there is the damage these chemical residues can do to our children, ourselves, and the environment. Pesticides used in the home and yard leave residue in our systems, too, and many pesticide residues end up in our water supply, with their lingering presence detectable in soil and water samples for many years, and perhaps indefinitely.
Current research findings suggest that beyond their immediate toxic impact on natural ecosystems, many chemical residues break down into compounds that mimic hormones and may wreak havoc on wildlife populations that are exposed to them.In many parts of the country, insect pests like fleas are becoming immune to the pesticides being used against them, creating "super pests" that become even tougher to eradicate and require even more toxic solutions to kill them. Using natural products to keep insects away prevents this problem.
DERMagic's new Diatomaceous Earth Flea Bar kills fleas naturally, while relieving itching. Therapeutic for both dry, oily or sensitive skin, these shampoo bars are handmade in the Pacific Northwest with organic vegetable oils.
ALL NATURAL SKIN CARE FOR ANIMALS
Stop itching
Promote rapid healing
Speed hair regrowth
Fight bacterial and fungal infections
Gentle and effective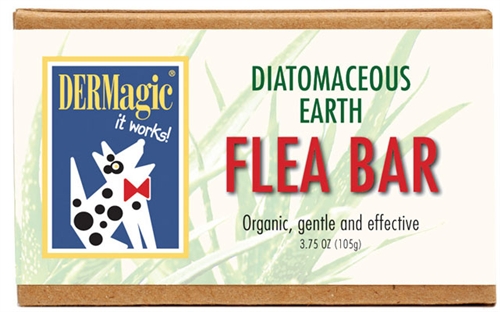 Ships in 4-7 Days
Express Shipping is not available for this item.
Flea Shampoo Bar - Organic with Diatomaceous Earth from DERMagic- $11.99