Get Well Pooch Dog Gift
Send get well wishes to your favorite canine with this get well themed doggy gift basket. This gift includes the famous Pill Pockets which are healthy treats with a patented pocket to safely conceal the medicine. An adorable pill minder is also included to help sort and maintain a whole week's supply of medications. This gift makes an awesome dog get well gift!
Gift Size 7 X 4 X 12
Shipping Weight 4 lbs.
This basket includes:
Pill Pocket Treats
Healthy Dogma Lamb & Carrot Recipe 8 oz.
Bakery Fresh Biscuit
Pill Minder in an assortment of colors (our choice)
In Case of Emergency label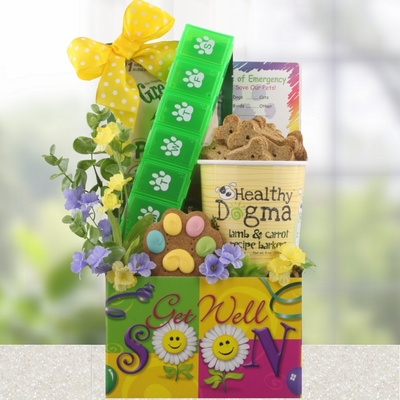 Ships in 4-7 Days
Express Shipping is not available for this item.
Get Well Pooch Dog Gift-$79.00