HELP SPREAD THE WORD:
We help to support many rescue organizations by providing some of their vital information and links right here on our web site! If you are a rescue/animal welfare organization and would like to be included on our community corner page, please send us an e-mail.
We think every doggie and kitty cat should get a gift, so we keep our prices pretty close to our cost. It is our idea that with excellent service and customers' re-orders and telling others about us, that we will grow slowly but in the right way. As we grow we put a lot back into the local and national rescue groups that need our help so much! They do so much with so little.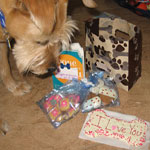 I just wanted to thank you so very much for your generous donations to the Adopt '08 contest! I cannot tell you how much Dickens (and TJ too) LOVE everything. The cookies are beautiful and smell delicious! It took me many many tries to get a photo for you as they kept eating everything too quickly! BOL! Thank you for the aditional pressies in the package as well ~ we love the book, the additional treats and everything was so beautifully packaged and presented! You are wonderful!
XOXOXO,Ellen, Dickens & TJ