Pet Head Cat Dry Clean Waterless Shampoo Spray - 15.2 oz
Get fresh in a flash! This spray on non-rinsing shampoo from Pet Head cleanses your cat's coat without water. Also perfect for trips or just a quick freshen up between baths. Has an irresistible Blueberry Muffin Fragrance.
To Use: Spray liberally onto dry coat. Avoid eyes and ears. Towel or blow dry and brush out for a clean fresh coat.
Made in the USA.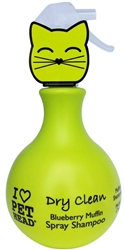 Express Shipping is not available for this item.
Ships in 4-7 Days
Pet Head Cat Dry Clean Waterless Shampoo Spray - 15.2 oz Blueberry Muffin- $9.99