The Honest Kitchen Dehydrated Cat Food
We take the same fresh meats, eggs, fish and produce you'd find at your local farmer's market and gently dehydrated them to preserve their natural goodness. You just add water. MADE IN THE USA.
When we eat well, we feel well. And the same goes for our pets. Itching, scratching, appetite woes, upset tummies and more, can all be linked to problems with food. Switching away from highly processed pet food to minimally processed, vibrant whole foods from The Honest Kitchen may be just what the doctor or veterinarian ordered.
higher energy levels We've noticed we have loads more energy when we pack a homemade soup or cold pressed juice for lunch, instead of grabbing something greasy from a food truck. It's true for pups and kitties too when they eat minimally processed, whole foods. 74% of pets enjoyed increased energy levels after switching to our foods!
healthy bodyweight Just like people, pets can end up at an unhealthy bodyweight when they eat too many refined carbohydrates, salt or processed ingredients. Clean single-source proteins and balanced healthy fats in our recipes make for a lean, keen racing machine physique in practically no time. 55% of pets with weight problems saw in improvement after switching to our foods.
silkier coat and skin Goodness going in equals a vibrant, outward glow. The skin and coat (and even the state of the ears) are one of the best ways to get a glimpse of your pup or kitty's inner health. Since food's a key pillar of total health and wellbeing, lackluster fur and irritated ears might mean a change in diet's called for 74% of skin and coat problems improved when pets changed to our wholesome fare, and 46% of ear infections cleared up too.
better digestion Tummy troubles can be a rather frustrating (and slightly embarrassing) pet health issue. Stopped up, soft-serve or smelly bottom-fumes can be signs that something in the food isn't agreeing with them. Healthy whole food goodness, antioxidants, soluble fiber, (and a strict absence of cheap fillers and tough-to-digest by-products) can help get the tail end back on the straight and narrow. 75% of pet's digestive problems improved or resolved when their owners chose our healthy fare instead of old-fashioned kibble and cans.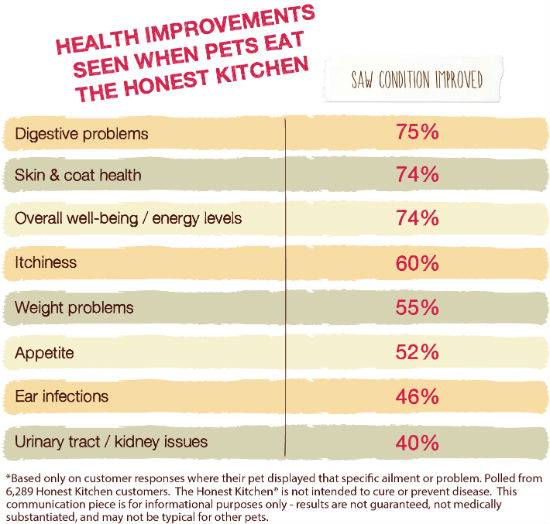 A1)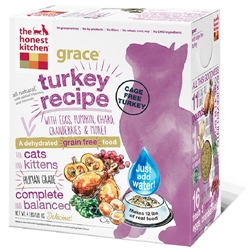 Dished up with 70% cage-free turkey, this healthy cat food is high in moisture and natural goodness. It's a less processed, whole food alternative to canned food. Why buy someone else's canned water when you can just add your own?
INGREDIENTS: All ingredients dehydrated: Turkey, eggs, pumpkin, potatoes, parsley, chard, cranberries, tricalcium phosphate, choline chloride, zinc amino acid chelate, vitamin D3 supplement, vitamin E supplement, potassium iodide, potassium chloride, iron amino acid chelate, copper amino acid chelate, thiamine mononitrate.
Available Sizes: 2 Lbs, 4 Lbs
A2)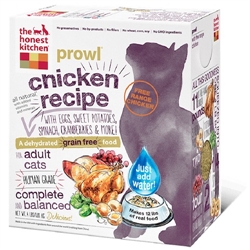 Prowl is an all-natural cat food made with free-range chicken, eggs and produce like sweet potatoes, spinach and cranberries. It is almost 70% meat and is a human-grade food ideal for adults cats; particularly those who need a diet without gluten.
Prowl is the The Honest Kitchen's original cat food recipe and many think it is the best available! It is a high-moisture dehydrated cat food which can be used in place of homemade or canned cat food diets. Just add water for a fresh, wholesome and human-grade meal.
Available Sizes: 2 Lbs, 4 Lbs
VERY IMPORTANT: How to transition your cat to the honest kitchen diet
Cats are notoriously finicky creatures of habit and it can be very challenging to persuade them to try something new. Here are a few tried and tested tips for transitioning your picky kitty to a new diet.
slow change Cats seem more averse to change than dogs, so we recommend hydrating very small amounts (half teaspoon portions) of The Honest Kitchen Grace or Prowl initially, and adding this to their current food. Then, gradually increase THK food each day over a period of weeks (if needed). Cats have their preferences, and because they are such tactile creatures, one should play around with the water content adding more if they enjoy soupy meals or using less water if the preference is a tacky consistency.
enticements Including some savory foods like cottage cheese, yogurt, raw or cooked egg can help during the transition. Variety is the spice of life, so mix it up! Consuming amino acids from multiple protein sources, and different vitamins and minerals from varying vegetables and fruits, will positively contribute to the pet's overall health.
trickery Sometimes it's necessary to coax your cat to try something new with a mind game. We've heard much success with this one! Hydrate the Grace or Prowl food and then dip the cats paw into it. Naturally, since cats want to be clean, will lick their paw and in the process they become more accustomed to the taste and tastiness of The Honest Kitchen food!
changing from free feeding to a twice-daily schedule If the cat is used to grazing at will with a bowl of dry food, start by feeding only two times per day, leaving the food out for about 30 minutes each time. Next, add a small amount of rehydrated Honest Kitchen (or canned food initially*). You may need to try multiple flavors or brands to find one to their liking. Contrary to what many pet food conglomerates will say, as cats become more accustomed to eating wet foods they usually become less finicky.
encourage water consumption Until the cat is on a more fresh diet, increase his hydration level by encouraging him to drink more: Try serving water from bowls of different sizes, shapes and materials. Some cats (and dogs) have problems with plastic, for example. A china saucer might be just what the doctor ordered. See if they prefer running water, by turning on the tap with the water coming out as a drip. Place the water dish in different locations (some cats prefer not to drink their water right next to their food). Try offering diluted, unsalted broth or clam juice, each day until the cat is used to drinking more fluids If a cat is eating solely dry food, a change to wet food (of good quality) may then make the change to a food like Honest Kitchen much easier. Also, adding Perfect Form during the transition can help to sooth the mucous membranes of the digestive tract, and reduce issues associated with diet changes.
Express Shipping is not available for this item.
Shipping is more due to weight
Sizes available listed under each item, please make sure you double check your selection.
Cat Food 2 lb Makes 6 Lbs of food- $30.00
Cat Food 4 lb Makes 12 Lbs of food- $55.00