Customer Agreement
By placing an order with us, you are agreeing to our customer agreement and FAQ section below.
WE WANT TO MAKE YOUR CHECKOUT AS FAST AND SAFE AS PAWSIBLE: Checkout in seconds anywhere, no typing required with this amazing FREE APP for your computer or mobile device. Dashlane checks you out and saves your receipts, all without a single keystroke. Click the link to get app now: Dashlane App

All of our payment options are processed on a secured page (https).
Payment Options Explained: We have 4 options of payment.
Direct Credit Card Entry
Google Wallet
Personal Check
Pampered Paw Gifts E-Gift Certificate
1. Payment by Direct Credit Card Entry:
Direct Credit Card Entry is processed through Stripe click here for their privacy policy, It's just like PayPal but BETTER, there is no fee to use this payment option. And no account needed.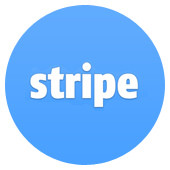 Disputes via Stripe:
If you have been accidently double charged for your order, you may email us and we will reverse the charge as soon as possible. This usually takes 3-7 business days to reflect as a credit on your credit card.

You will get a email confirming this has been done

.
If you contact Stripe to dispute a legit charge, meaning you

did not email us

for your tracking and get a reply (usually within 24-48 hours) from us

first

. Or did not read the shipping timeframe listed on each item and in the FAQ section and get upset about the order not arriving in the time you wanted.
If you contact Stripe to dispute a legit charge and we can in fact show that the order is being delivered in the timeframe per our site or have a tracking number showing the order is in route or delivered. THEN, we will charge you a duplicate charge and refund this amount once the disputed charges are returned to our account. You will not have to be concerned about this happening if you contact us first and let us give you the status of your order and reclarify the time it takes to ship your order.
2. Payment by Google Wallet (aka Google checkout):

Orders paid through Google Wallet (aka Google checkout) You must have an account or set one up to use this payment option.
Please make sure your (ship to) is correct. Our system ships to the address listed on the Google form, so make sure they are all the right one because you will have to pay to ship it to where you meant to send it. Per Google guidelines we can ONLY ship to the ship to listed on their form.
3. Payment by Check:
No starter checks accepted. (This means if your name and address and phone # is not printed on the check we can not accept them)
Steps to Pay By Check:
Print your confirmation email and add it into your envelope along with your check.
Make check payable to: Tera Hamby
Address: Pampered Paw Gifts c/o Tera Hamby
5422 Passing Pine Lane, Zephyrhills, FL 33541
We wait until they clear before shipping. We will notify you when the payment is deposited and another confirmation once the payment has cleared.
Please note if your check bounces, after shipping your order.
You will get an invoice for payment by credit card along with a $25.00 fee.
If payment is not received, late fees will incur and we will send you to collections and it will be reported on your credit.
Also if you live in a state that prosecutes for check fraud, we will prosecute. This may sound harsh, but it is sad to think dog and cat people would be dishonest.
4. Payment by Pampered Paw Gifts E-Gift Certificate: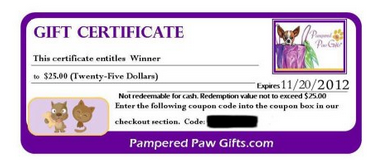 1. Simply select Gift Certificate Redemption on the Secure Checkout Page & Click the Order Now button, this will take you to the Gift Cert Entry Page
2. Type in your code on your gift certificate & Click the Order Now button
3. If your gift certificate redemption value is less than the total of your order; you will be sent back to select a different payment method to complete the order. If you have more than one gift certificate code type in the certificate code below click "order now" click the back button to add a second repeat as needed for as many Gift Certificate codes you may have.