Chihuahua Dog Million Dollar Bill
This Special Edition Collectible Dollar Bill CERTIFICATE SERVES TO RECOGNIZE CHIHUAHUA LOVERS EVERYWHERE!! The PERFECT gift for Chihuahua parents! Have it framed or use as a bookmark!!
A Chihuahua is the smallest breed of dog in the world. It is named after the Mexican state of Chihuahua, where it was discovered in 1850. Chihuahua dogs generally range in height from 6-inches to 10-inches, although some can be as tall as 15-inches. They generally range in weight from 2-pounds to 6-pounds, although some non-show dogs weigh as much as 10-pounds. Coloration varies from a solid color to spotted, and a variety of colors and patterns. These bills, which do a great job of capturing the varieties in the breed, make great gifts for that Chihuahua lover that you know!
Limited Supply!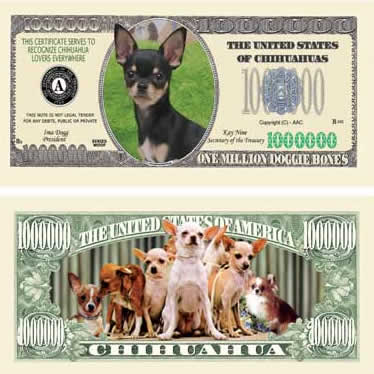 Ships in 4-7 Days
FREE SHIPPING SHIPS Standard USPS
Chihuahua Dog Million Dollar Bill
SALE $1.00