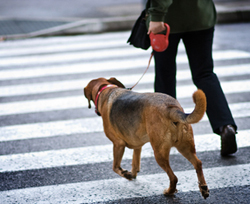 It may be fun to allow your dog the chance to explore his surroundings on your daily walk, the ability to jog at a faster pace and over all have more freedom than a typical flat nylon lead would provide. Maybe you feel that this item is the best solution to your dog's pulling problem; after all, he can get to where he's going without pulling you this way! The retractable leash was created and marketed for this reason, despite the dangerous flaws that put both you and your dog at risk.
Freedom With a Price
The price tag on that useful retractable leash is not the only price you may pay when you use it. There are multiple reasons why a retractable leash may cause harm to you or your dog. Physical damage, such as cuts and burns are common occurrences on an owner who chooses to unwisely use these devices. Behavioral troubles as well as harm to your dog are also well known with a retractable leash.