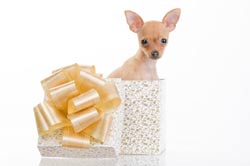 Getting a present for your dog can sometimes prove to be difficult. But fear not, you can get your dog something he will enjoy no matter what. Gift baskets for dogs are readily available and provide plenty for your pooch pal to love. Not only the dog will enjoy it, either. Gift baskets are fun for the whole family, and are an excellent way to bond with your dog. When is the best time to get a gift basket? Anytime is good for a present, but like humans, there are big moments in a dog's life that should be celebrated. That's where Pampered Paw Gifts comes in.
New Puppy Celebration
Are you bringing home a new puppy? Congratulations. Pretty soon that little pup will be playfully making his way into your heart. Welcome him into your home with the Welcome Home Sweet Pooch gift basket. This gift basket comes with a bag of gourmet doggie treats and a ceramic bowl, which is for dogs only with the word Woof right on the front. Your choice of peanut butter treats (with the green bowl) or cheese (with the orange bowl).