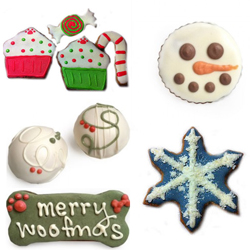 If you feel the same way that most dog owners do, then your pet is like a member of the family. So, at Christmastime your dog deserves a special treat to celebrate the holiday season.
Even though you have spent weeks preparing for Christmas morning, making the perfect candies and cookies for everyone to enjoy, your four-legged friend also needs a delicious holiday treat. However, not all treats are good for your dog.
Most dog owners will agree that a healthy dog is a happy dog. Of course, canine nutrition is the number one contributing factor in making sure your dog remains in a healthy condition. With most dogs, keeping them healthy is as simple as watching what you feed them, which includes healthy doggy treats.